careers
We are always looking for great people to join our team! A great team member will strive to live up to our mission of honesty, integrity and superior customer service. Their default attitude is "Sure, I can do that." Their eyes light up when talking about their work. They are open to new ideas and constructive feedback. They do what they said they would do when they said they would do it. They recognize needs and take care of them without being asked. If you want to love your job, we want to hear from you!
SWEENEY CONTROLS CORE VALUES
Do Your Best, Always
Every day, in every situation, you give 100% of your effort to the best of your ability while maintaining a positive attitude.

Keep It Clean
Quality, efficiency, safety, and professionalism can be achieved through cleanliness: clean panels, clean job sites, clean code, clean desk, clean shop.

Own It
You are responsible for your work, actions, and deadlines; past, present and future.

Do the Right Thing
Follow the Golden Rule: Treat others as you would like to be treated.

Be a Hero
Everyone you work with and for are your customers. Offer each and every one of them the superior customer service they deserve and make their day.


Quality. Innovation. Service.
Submit Resume
If you have industry expertise or the desire to learn, with a customer-first attitude and great energy, apply online today. Review our open positions to find out which one is right for you and submit your resume using the link below. We appreciate your interest in working with Sweeney Controls Company.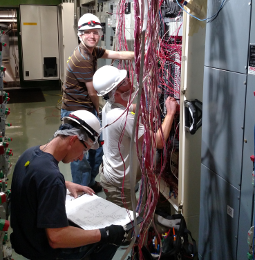 What does a Control Panel Technician Do
Check out a tech in action

Sweeney Controls Company is an equal opportunity employer. All qualified applicants will receive consideration for employment without regard to race, color, religion, sex, national origin, disability, or protected veteran status.
Benefits
In addition to a clean and safe work environment, Sweeney Controls recognizes the below items as essential elements of a meaningful workplace:
Health & Wellness
Health Insurance


Medical and Prescription Drug coverage for team members and eligible dependents, with corresponding Health Savings Account for eligible enrolled team members

Dental Insurance


Dental coverage for team members and eligible dependents

Vision Insurance


Vision coverage for team members and eligible dependents

Employee Assistance Program


Confidential support, resources, and information for team members and their family members

Wellness Incentives


Earn up to $250 per year via gym membership reimbursement and/or activity tracking towards your goals
Financial
401(k) Plan


100% company match on up to 3% of the team member's contribution, with an additional 50% match on up to 5%. Both the team member's and company's contributions are fully vested immediately. Traditional and Roth options available

Life Insurance/AD&D


100% Employer-paid Life Insurance and AD&D Coverage

Long-Term Disability


100% Employer-paid Long-Term Disability Coverage
Work-Life Fusion
Paid Holidays
Paid Time Off


Accrued based on years of service

Flex Scheduling


We get it. Life happens. Sweeney Controls supports our team members' needs for flexibility to meet family needs, and for personal activities–whether it's an appointment, a baseball game, or waiting for that furniture delivery, our flexible work arrangements help you find harmony in life and work
Learning & Development
Paid Training
CSIA Certification


Sweeney Controls has achieved CSIA certification annually since 2017, abiding by rigorous performance standards to maintain this distinguished honor

Professional Development and Educational Reimbursement


Team members are eligible for an annual allowance that can be allocated towards continuing education, professional memberships, and/or certification testing fees and materials

Rewards and Recognition Programs


Team members are nominated for recognition throughout the year by their manager and/or peers. Annually, one team member is honored with the Patrick Sweeney Exceeding the Expectations Award, receiving a cash prize as well as an allowance toward an expenditure benefiting the team as a whole
We like to have fun here!
Monthly breakfast with the boss
Donut Thursdays
Casual Friday... every day!